MOG Builders is a Brisbane based construction company founded by Dominic Martin in 2009. 
Specialising in high-end residential and commercial construction, MOG Builders have established an industry-wide reputation for superior quality and five-star service.
With a passion for challenging construction projects, pushing architectural boundaries and creating distinctive bespoke designs, we strive to offer the finest outcome each and every time.
Our business is divided into two spheres. Firstly, undertaking individual client contracts to create custom designed homes and projects. And secondly, our own high-end developments that are then offered to market. 
We work extremely closely with our clients to ensure a smooth, stress-free construction process, delivering all projects on time, on budget and to standard that is unmatched by our industry counterparts.  Client feedback has consistently been that we are highly professional with a very positive company culture, meaning that dealing with us is relaxed and reliable.
We bring the same level of quality and innovation to our developments as we do to our private contracts. Specialising in smaller boutique projects, MOG have earned a reputation as one of Brisbane's finest builders of architecturally designed townhouses.  Recently, MOG have expanded into development of their own luxury family homes, with resounding success and a high demand for future projects. We recently won Master Builders Queensland Brisbane Townhouse of the year 2 – 5 Dwellings.
First and foremost, the company is committed to providing premium construction finishes on all building projects. Our vast technical knowledge, diversity and precise construction methods allow us to deliver on all types of projects, especially those that are challenging or more intricate.
Professional project managers are supported by a highly skilled team of our directly employed tradespeople and sub-contractors. The company prides itself on a very low staff turnover rate, which accordingly boosts the consistency and quality of its practices.
We are dedicated to the maintenance of meticulously organised building sites throughout the construction process. This ensures efficiency, safety and strong ongoing relations with surrounding neighbours and businesses throughout the building process.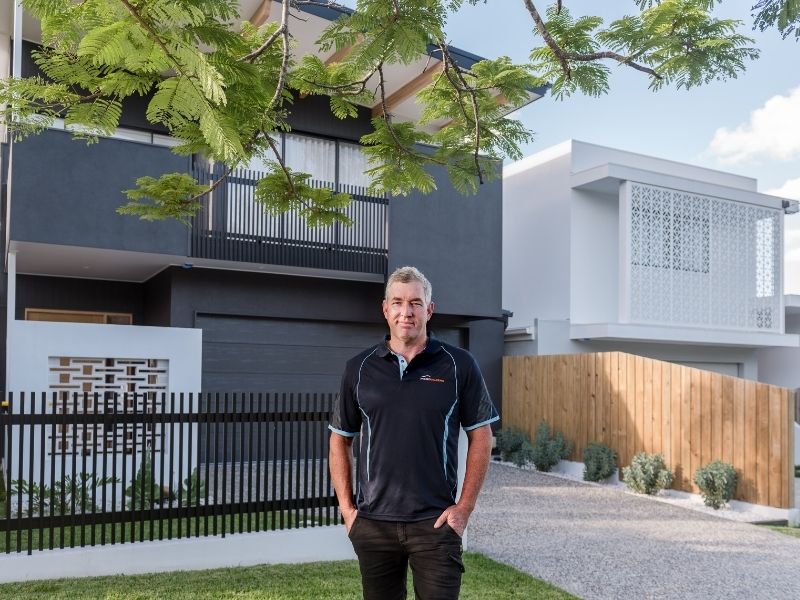 Dom Martin, Founder of MOG Builders